Tactical operations in a hostile environment require maximum efficiency in any situation or environment, so it is essential to be able to count on the quality and performance of your equipment. For the full product range please visit the PETZL TACTICAL SOLUTIONS WEBSITE. We do not sell Petzl products directly to the public, please use our Dealer Locator from the menu above.
Here is the current Petzl Tactical Catalogue – these are always a great read! Download the 2019 Tactical Catalogue
Some of the new gear that has arrived in Australia includes:
AVAO® BOD CROLL® FAST ALL BLACK
With an integrated black CROLL S ventral rope clamp, the AVAO BOD CROLL FAST harness was designed for greater comfort during rope ascents. The X-shaped dorsal construction wraps to reduce pressure points during prolonged suspension. The harness also facilitates carrying and organising work tools, with multiple equipment loops and retainers for attaching CARITOOL tool holders and tactical pouches. The AVAO BOD CROLL FAST harness has a specific construction that allows the user to hang from the dorsal attachment point for a longer time in case of a fall. It has a fall indicator on the dorsal attachment point and is certified to North American and European standards. Available in 3 sizes 0,1,2 and at the time of publishing, we had stock of all 3 sizes.
Vertex VENT BLACK
With its strong 50 daN chin strap, the VERTEX VENT helmet sets the standard in head protection. It has ventilation holes with sliding shutters to allow the ventilation to be adjusted as needed. Its six-point textile suspension ensures maximum comfort, and its CenterFit adjustment system adjusts the headband and keeps the helmet centred on the head. One size and it's totally black. Heaps in stock.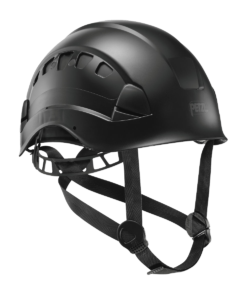 RIG
The new RIG has landed in Australia, in black, the 2018 version of the RIG's AUTO-LOCK system automatically locks off the load and returns the handle to its initial position, has a higher weight rating and will now work on skinnier ropes as well as being reinforced at wear points.
RIG is a compact self-braking descender designed for experienced rope access workers. It has an ergonomic handle that allows comfortable descent control. The AUTO-LOCK system allows users to easily position themselves at the workstation without having to manipulate the handle or tie off the device. Once locked, the rope can be taken up without having to manipulate the handle. The safety gate allows the rope to be installed with the device remaining connected to the harness, facilitating passage of intermediate anchors. The stainless steel wear plate improves durability by reinforcing the rope friction zone.